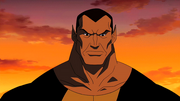 Black Adam
is a character created by Otto Binder and C.C. Beck. When he shouts the words "SHAZAM!", he gains power from the Egyptian gods, gaining the strength of Set (which gives him superhuman strength), the speed of Horus (which gives him superhuman speed), the touch of death of Anubis (which gives him the ability to kill people just by touching them), the intelligence of Zehuti (which gives him superhuman intelligence), the stamina of Amun (which gives him invulnerability), and the fighting skills of Montu (which makes him an expert at hand-to-hand combat). He uses these powers to try to take over the world. Thankfully,
Shazam
 always manages to stop him.
Community content is available under
CC-BY-SA
unless otherwise noted.